If you are thinking about moving to Cincinnati and you are not familiar with the area. There are many reasons to move to Cincinnati. However, like any other cities, there are cons as well below is the information that might help you with your moving to Cincinnati.
Moving to Cincinnati Guide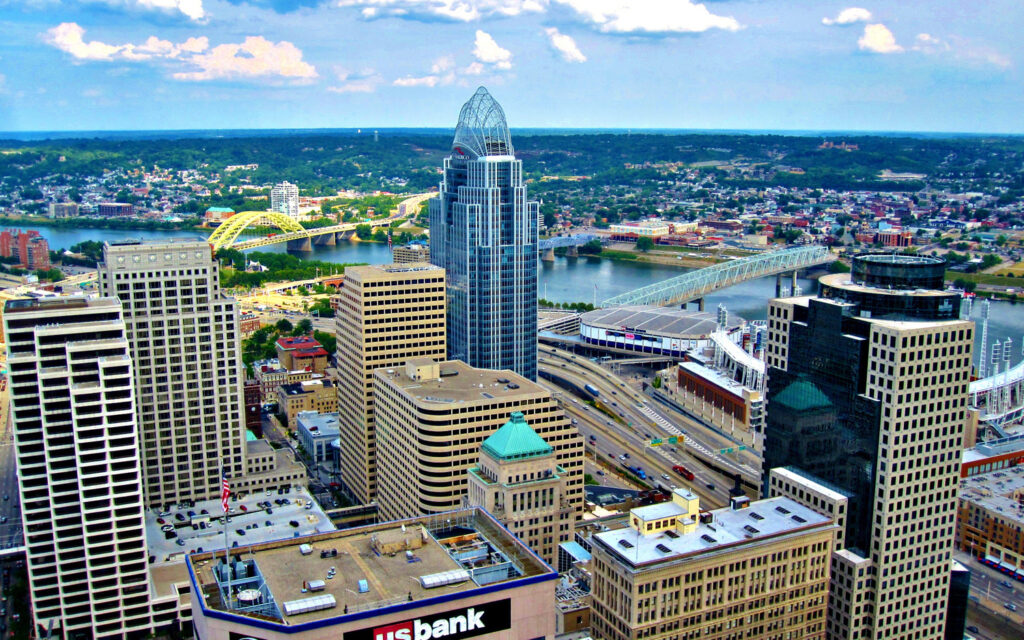 Booming Job Market
One of the most popular reasons for moving to Cincinnati is the booming job market.
Cincinnati is a home of two big hospital systems that provides employment in the area via UC Health and TriHealth. They both have tons of individual locations and they employ thousands of people around the Queen City.
There are also several financial institutions that employ numerous people around the city. Two of the largest institution in the city are Western & Southern Financial Group and Fifth Third Bank.
While there are big names employing in the healthcare and financial industry. There are also several retail companies like Macy's, the Kroger Company, and Proctor & Gamble.
Moving to Cincinnati?
Here are the Best Interstate Moving Companies
The Cost of Living is Low.
Another big reason for moving to Cincinnati is the cost of living. The city has one of the lowest cost of living among major cities around the US. U.S. News & World Report has ranked Queen City as the 10th most affordable city to live in the entire country this year. The typical cost of living is about 21% of the median household income.
Diversity of Neighborhoods
The mix of neighborhoods in Cincinnati is so diverse that you can see it in just traveling from one street down to the next one.
Each neighborhood has its own unique culture to show no matter where it is in the city. You can see the upscale Hyde Park to the distinctive Clifton Gaslight District, the beautiful views of Mt. Adams down to the hip culture of Northside to the lively activity at The Banks to San Francisco-type of feeling in Columbia-Tusculum and of course the stylish vibe in Oakley and many more. Each neighborhood boasts its own personality.
So if you want to experience a different culture or you want to experience a different feel, you don't have to travel all the way out of the city to experience it. You can just walk down the road or drive a couple of minutes to see the difference.
Moving to Cincinnati?
Here are the Best Interstate Moving Companies
Massive Park System
Cincinnati has plenty of green spaces across the city where you can do both of these things, whether you are interested in going for quiet walks, intense hikes, or just looking to immerse yourself deep in a forest.
In reality, many individuals who move to the area are surprised at the sheer number of outdoor spaces to enjoy. Cincinnati has it all from public areas with dog parks to nature centers with miles of hiking trails such as the Cincinnati Nature Center, parks with beautiful lakes such as Sharon Woods, to secret gardens such as Glenwood Gardens.
The thriving food scene
Cincinnati truly has plenty to give everyone in terms of food, whether you enjoy tacos, BBQ, wings, sushi, or some other form of the dish. For comprehensive lists of the best restaurants in town.
However… Cincinnati..
While moving to Cincinnati has more pros than cons we can't help but of course provide you with information about what's not so good about the city.
Unpredictable Weather
With respect to Cincinnati, if there is one thing that locals prefer to grumble about, it is the erratic weather. It's one of the few cities in the U.S. were experiencing each season in one day is not unusual.
Although the city, like San Diego, does not have glorious sunny weather for 350 days a year it does give a good dose of all four seasons, meaning you can enjoy the sunshine in the summer, brisk mornings in the fall, snowfall in the winter, and beautiful flowers in the spring.
The lack of Public Transportation
Cincinnati does not have a dedicated subway system, and while it has a Metro system and a large downtown streetcar system, without using a car, it is not exactly easy to get around the city in a fast and timely way. For certain people of larger cities who are used to being able to rely on a subway or similar public transportation system, this may be a turn-off.
In Summary…
No city is perfect by any means, so is Cincinnati. however, you can weigh the pros and cons of moving here. We have provided you with basic information that can help you make that decision.
The money you can raise in the city is impressive compared to the cost of living, there are plenty of things to do and places to visit year-round so you're unlikely to get bored, there are a plethora of great restaurants and public parks to check out a mind-boggling amount of independent coffee shops, and an awesome brewery scene.
We know it's a hidden gem for those of us who live in Cincinnati. And it represents an incredible place for those who aren't familiar with the city, which is rich with culture and just waiting to be explored.