Wondering what are the best cities to live and move to with retirement income or at a minimum wage? We explore the cheapest cities and metro areas in the US. Continue reading below to learn more.
Also, Read: Top 10 Best Places to Move in the US 2021 ( For A Better Life)
We chose a varied range of metros around the country to find the finest cities for budget-friendly living.
Best cities to live criteria:
Food costs on a monthly basis (35% )
Rate of crimes per 100,000 people (15% )
Property crime percentage per population (15%)
Median Gross Rent (35%)
We favored higher population areas in the event of several metros in one state because there is likely more entertainment, events, and prospective buddies nearby. You can do more of what you want (even if it's simply staying at home) when you save on basic living bills.
Because our analysis doesn't account for debts, taxes, child support, or other unforeseen costs, you'll need to double-check that your budget matches the predictions.
Best Cities to live in the USA
A bit more than half of the American states have metros that meet our requirements for low crime rates and inexpensive housing and food. The average gross rent as a proportion of income in these metros is 28.2 percent,5 of which falls within the 30–35 percent rent-budgeting range.
According to the US Census Bureau, the median gross rent in the best affordable cities is $814, whereas the national median gross rent is $1,097. By relocating to one of these metros, you might save roughly $283 per month in rent alone.
Maryland and Cumberland had the cheapest rental in our list, at $628 each month, and was the top city for cheap living overall.
New York and California may appear to be pricey states, but if you don't have to be in a big metropolis, you can escape paying huge bills. San Diego, California, and Tijuana, Mexico are both roughly two hours away from El Centro, California. If you're hoping to visit the Big Apple, the Buffalo-Cheektowaga metro is far closer to Toronto than NYC.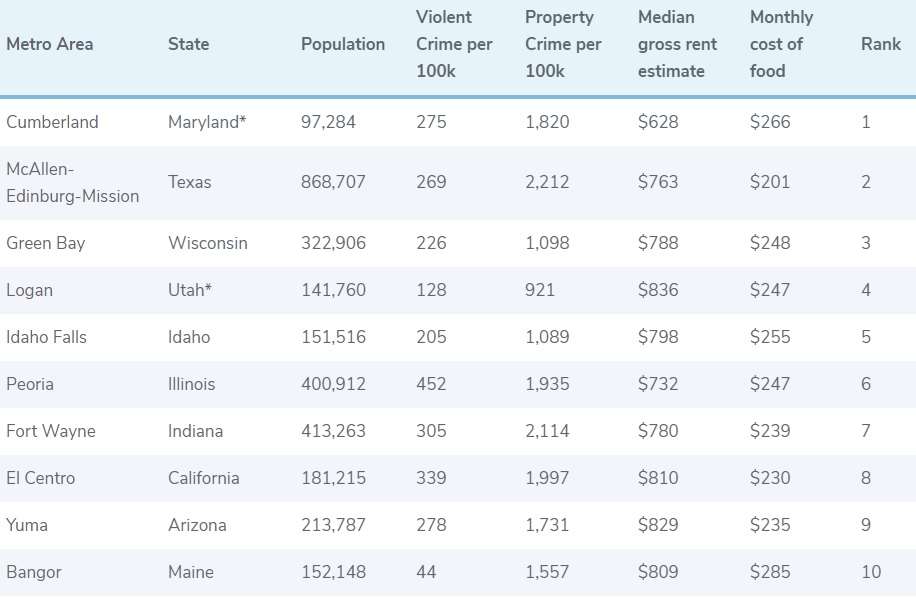 Related
Reasons Why We Should All Be Moving To California 
Moving to Maryland: A Complete Relocation Guide
Do you need to live close to downtown but don't want to pay high rent in Salt Lake City, Utah? Logan, Utah, is a great place to visit. Logan's median rent is $763 per month, with groceries costing around $247 per month. You'll be near stunning mountains and Bear Lake in less than an hour.
If safety is your major concern, Bangor, Maine, has a violent crime rate of 44.3 per 100,000 people, compared to the national average of 314.6 per 100,000 people.
Conclusion
Each data was standardized on a 0–1 basis, with 1 referring to the measure that would have the greatest positive impact on the final score and 0 corresponding to the measurement that would have the greatest negative impact on the final score. These corrected measurements were combined with the above-mentioned weights to produce a ranking score of 100 overall.
Cities having a median monthly rent of more than $886 and metro regions with lacking crime statistics were excluded. 290 cities were included in the FBI's crime data.
We preferred the metro with the biggest population in states with several metros that qualified.